Presenter at the TMF Game Awards, GamExpo 2004
Utrecht, the Netherlands
TMF
is an international music television channel -- the Netherlands' answer to MTV. In conjunction with a big Benelux game trade show, GamExpo 2004, they held an awards show in Utrecht. The awards were for games and gamers in a variety of categories, and each category had its own "celebrity" presenter. I was invited to come and be the presenter for Best All-around Game, which turned out in the end to be
Doom 3
. Not the one I would have chosen, but the games were selected by a popular vote of gamers.
Being an award presenter consists of tedium intermixed with terror. The process consisted of sitting around for a long time during rehearsals, stepping in for my 30 seconds, then sitting around for a long time during the real thing, and finally stepping in for my 30 seconds again. The show was being recorded for editing and broadcast later, but because it had a live audience it was effectively live TV -- there was no time for re-takes. Much of the time I didn't know what was going on, as proceedings were conducted in Dutch; but at least when I spoke to people they replied, quite well, in English.
While I was on stage, I took the opportunity to plug a game made by some friends of mine:
Killzone
, from Guerilla Games. They're the most successful of Holland's (very few) game developers, and as they weren't in the running for the awards this year, I thought they'd appreciate a mention. Since they were the hometown team, it went over very well with the crowd.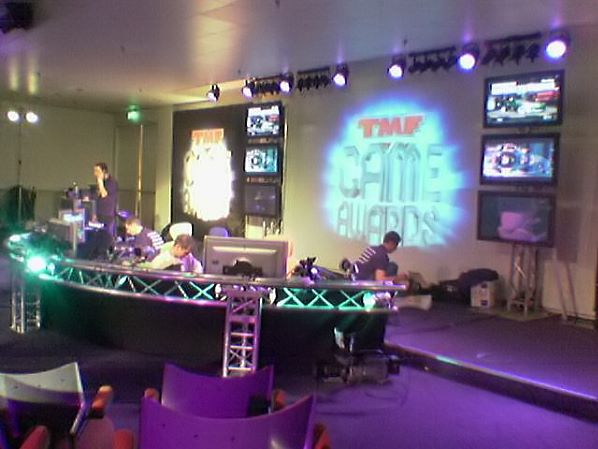 Technicians setting up the awards stage.
After the awards show there was a big party with a lot of food and drink, and music so loud that it was difficult to talk to anyone. Why do people insist on doing this? Nobody was dancing, and the sex ratio was, as usual for game events, about 20:1 male-to-female in any case. I took my leave when I started to get hoarse.
I enjoyed my visit and I thought it all went well, despite the tension of being on live TV.