Lecture Tour Days 10-12: FuturePlay Conference
Michigan State University, East Lansing, MI

The FuturePlay Conference
. Wow. I've attended two previous incarnations of this event, when it was called the Computer Game Technology conference, but this one was better than ever. A combination industry/academic conference FILLED with big name people: Henry Jenkins, James Paul Gee, Chris Hecker, Michael Mateas, Greg Costikyan, Marc LeBlanc, Brenda Brathwaite, Jason Della Rocca, John Buchanan. Plus I got to see a number of other old friends and acquaintances from over the years -- Brian Wynn from Michigan State, Celia Ross from Algoma University College, Kelly Rued of Black Love Interactive, Guillaume Provost of Pseudo Interactive, Jeb Havens from Cyberlore, and I'm sure I'm forgetting a lot more. I also made some new friends, most particularly Tobi Saulnier who's running a startup at the business incubator at Rensselaer Polytechnic. Tobi's a former electrical engineer, and it has been a long time since I've had a chance to talk about circuit design and layout tools (in a former life I made chip design tools for the electronics industry). The conference itself was not a very large event -- 325 or thereabouts -- but that was part of what made it fun. It wasn't so huge that you couldn't find anybody.

I gave my keynote lecture on the afternoon of the 13th, and they taped it, so you can see it on streaming video here. (Scroll down a bit; requires QuickTime 7.) The other talks are also available and well worth watching, especially Michael Mateas' on game AI.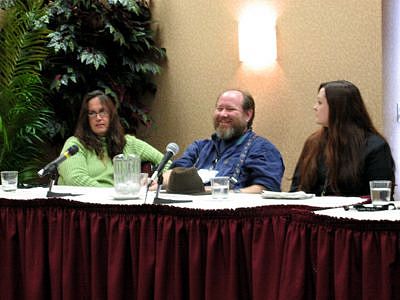 I also sat on the Sex and Gender in Games panel. There were so many of us on the panel that I didn't get to say a lot, but it appears that I had a good time. On my right (the left in the picture) was Brenda Brathwaite, designer of

Playboy: The Mansion

, and on my left is Kelly Rued, who's trying to create a sex-themed MMORPG with some class, called Rapture Online . The other people on the panel aren't visible in the picture.