A week teaching at the University of Skövde
Skövde, Sweden

This was my third visit to the University of Skövde, and the second time I've been asked to come and teach for a whole week. The first day was spent entirely in reviewing the projects that the first-year students in the game development program were working on. Some of them were pretty conventional, but others very imaginative. That night I was invited to dinner with Ulf Wilhelmsson,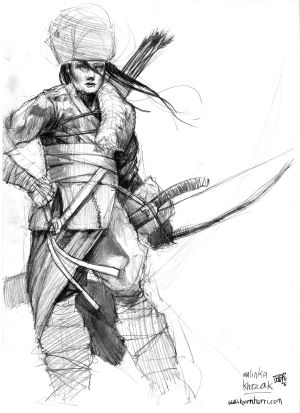 my host and the man who designed the game development program at Skövde. He's an amazing guy -- collects guitars, owns and does the machine work on his own Harley, a film historian, and is an audio engineer as well. You don't find a lot of game programs that were set up by a sound person. I spent the night at his house and stayed up late talking to him and his charming financée Anna.
On the second day I gave two lectures, and reviewed a few more projects.The third day was devoted to my
Character Design Workshop
, which I gave to the second-year students. The pictures illustrating this story are all from that workshop, drawn by
Bjorn Hurri
in the space of about three hours. Each team was given a character name and a job, and told to create the character, then design an action-adventure game around it. His team was given "Malinka Khazak, Mongol horsewoman." (I'm sure the name is nonsensical, culturally speaking; I chose it because it sounded evocative.) They also had to create one conventional enemy and one boss enemy, pictured below. The world they created was a strange fantasy of magic and bizarre creatures. Malinka's boss enemy is Genghis Khan himself, riding a huge clawed demon of some kind, and the conventional enemy is one of Genghis' generals. They also threw in an evil spirit horse for Malinka to ride, whose power is derived from her own hate and desire for revenge. Ripping stuff.