Keynote at the invitation-only JISC CETIS conference.
The Lowry Arts Centre, Manchester, UK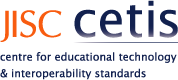 JISC is the Joint Information Systems Committee -- a large government-funded organization whose purpose is to assist higher and further education (the latter would be called "adult education in the USA) to make the best possible use of information and computer technology. CETIS is one of their many projects, and they have an annual invitation-only conference for academics and other educators. This year one of their topics was the subject of games in education, and I was invited to come along and give a talk about games generally. I gave them one of my favorite lectures,
"The Philosophical Roots of Computer Game Design."
It went over pretty well -- one of the audience came up and said it was the best talk he'd heard in the last fifteen years!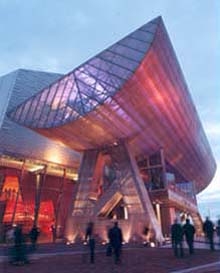 The Lowry
, by the way, is one of Britain's millennium projects, a really cool art museum/theater/meeting space in the Salford Quays, a formerly dying industrial region of Manchester (like the London Docklands area, it was heavily bombed during WWII and the postwar reconstruction was not particularly felicitous). Inside it's all funny lines and angles -- I don't think there's a 90 degree angle in the whole place, except maybe where the walls meet the floors. Lots of ramps, oddly-shaped rooms and so on.
Many thanks to Paul Hollins for inviting me.