A Visit with Michael Stenmark
Enhörna, Sweden
Michael Stenmark was one of my very first clients when I started consulting, and brought me up to Stockholm to visit his company, Hidden Dinosaur. A lot has changed for both of us since then, but we're still in touch. He's one of the most creative people I've ever met.
After I got done on Gotland I had a day free, so I went to spend the night at his amazing house in the country. I don't know if Michael is a big hit with women or not, but he ought to be: this is his guest bedroom, a wildly romantic confection of an antique Indian bedstead, cloth-of-gold pillows, draperies galore, and a big fuzzy tiger. The house is full of plants and candles everywhere, and he leaves the latter burning when he goes out for dinner, which suggests that he either has nerves of steel or just doesn't think about burning the whole place down.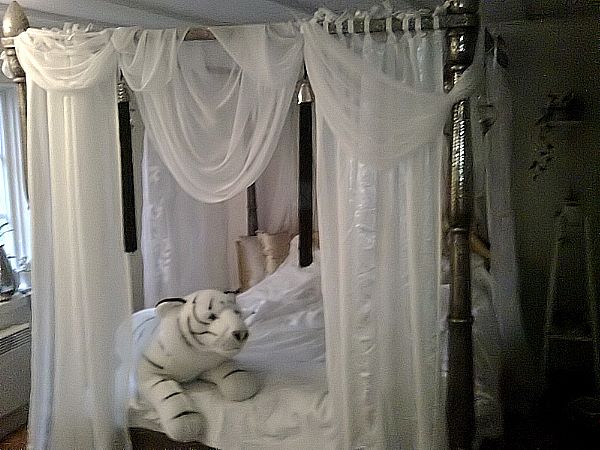 We went out for a great Greek meal in the middle of nowhere, Sweden (!) and talked about all kinds of computerized creative stuff. Michael is the creative director of a funky persistent world called
Spineworld
. It's isometric, looking a little like Habbo Hotel, only
way
more weird. It's also very low-bandwidth.
On the way back from dinner I slipped on some black ice and banged the back of my head very hard on the pavement. We put ice on it right away, and although it developed a goodly bump, I don't think I suffered any permanent damage.
The next morning I was off to my next gig, a week teaching at the University of Skövde. Many thanks, Michael!