I won a contest at Develop!
Brighton, UK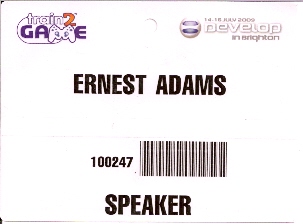 So about two weeks before Develop, Susan Marshall, the organizer, wrote and asked me if I would come and speak, because one of her speakers had cancelled on her. I wasn't planning on going because I'm so busy revising
Fundamentals of Game Design
at the moment, but I said I'd do it and off I went. It gave me a chance to meet some old friends and make some new ones.
The first day I went to Games:Edu, the special event for the higher and further education community who teach about games. I arrived late and apparently missed a controversial talk, but I'm not really into the politics of games education funding, so I probably wouldn't have understood it anyway. I got to hear Kim Blake talk about the work that Blitz Games does in reaching out to students, though, and that's very cool. They hold frequent open days for students, but the students have to apply to be accepted and only the good ones get in. Several of the best have ended up employees of Blitz, so it clearly works for them, although it's expensive and a lot of work. I can't think of any other development company of their size that does so much to get in touch with students.
The second day I should have been out schmoozing, but I spent the whole day locked in my hotel room working furiously on the book. I didn't have any scheduled events that day and I felt the book had to take priority. That evening I went and had a great fish dinner (alone, alas) at the Regency Restaurant on the waterfront.
On the 16th I went and listened to a couple of different things -- I think my favorite was Masaya Matsuura's lecture on musical games, which preceded mine. He made the point that musical games don't just have to be about rhythm, as most of them are now. We can make games about harmony and singing together and all sorts of things. I have a great quote from Matsuura-san on my
Quotes for Designers
web page, some of the best advice for creative people that I've ever heard: "Do weird and difficult things."
My own lecture was reasonably well-attended, even though it was the end of the day and the room was hot. Because I was asked on short notice I didn't have time to write a new one, so I delivered "
Rethinking Challenges in Games and Stories
," my 2007 GDC lecture. (You can hear an audio version of the GDC lecture
here
.) After the lecture Develop held an event called the Opinion Jam, in which people got up and gave short rants on different topics, and then there was an audience vote to see whose was best-liked. There were about ten. I only remember two or three: a Conference Associate (volunteer) got up and ranted that he didn't like his yellow CA T-shirt; someone said, "Don't do any more sex in games until we can get good at it"; another person said, "Don't do stupid preachy moral decision-making in games any more." I wasn't going to say anything -- I had just come along for the free beer anyway -- but they were looking for one final ranter, so I got up. I said (as I've said before in lectures): "Writers are paid garbage anyway, so for God's sake hire good ones! And good actors too! Nothing destroys my immersion quicker than having a character deliver a stupid clunky line." I think I won over the crowd with the observation that Britain has excellent actors (this is why the US imports them) and so there's no excuse for bad acting in a British-made video game.
At the end there was a vote, and to my considerable surprise, my rant won. It came down to a runoff between the anti-moral-decision guy and me, but the crowd cheered just a little louder for me. I don't normally win things, so I'm obscurely pleased about this.
After that I went to the bar, did a lot more schmoozing, and went home.