GDC 2010!
San Francisco, California, USA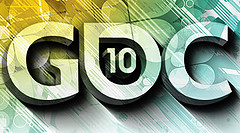 This was my 21st Game Developers' Conference. I started going in 1990, and I've been to every one since.
It was a bit of a blur this year, combining social, networking, attending, and presenting into one big busy furball of activity. The first order of business, on Tuesday, was to get to the Serious Games Summit and see my friend Tim Laning of
Grendel Games
present his amazing new laparoscopic surgery training game. The game doesn't simulate laparoscopic surgery itself -- there are loads of trainers for that and the surgeons are bored stiff with them. Instead, it offers an action-puzzle game that the player has to play by performing laparoscopy movements using a pair of specially modified Wii controllers. It teaches the same hand-eye coordination skills, and uses the same restricted lighting conditions, as real surgery, but the game itself is about managing a bunch of destructive little robots. It was a hit with the audience and will soon be demonstrated at the new
Games for Health
conference in May.
The Wii surgery input device. They had some trouble getting it through Customs.
I snitched this picture from Jason Della Rocca's Reality Panic blog.
I also ran into Judy Perry of Norco College again, and stopped into the orientation meeting for new IGDA board members. The main point I made there was to keep their internal board squabbles internal, lest their disagreements hurt the organization as a whole.
That evening I took my Dutch friends, who have been incredibly hospitable whenever I have visited them in Leeuwarden, out for dinner. We started with a trip across the Golden Gate Bridge to see San Francisco from Battery Spencer on the Marin headlands, a longtime favorite of mine. After that we went to
Greens Restaurant
in the Fort Mason center for some of the best vegetarian food anywhere, and then over to the Marina Safeway (famous to fans of
Tales of the City
) for It's-Its. The It's-Its were not as good as I had remembered and something of a comedown after the food at Greens, but I explained that this was a San Francisco Thing which they Must Not Miss.
Nadia Columbo, Jonathan van Woudenberg, me, Gerdien Dijkstra and Tim Laning at Battery Spencer.







I spent most of the next day locked in my hotel room working on my lecture, which wasn't yet finished. In the evening, Dorothy Phoenix, a
very
promising student I met a couple of years back when I was doing a recruiting gig at DeVry University in Arlington, took me out for Korean barbecue. She's now with IBM and will be someone to watch if she ever goes into games. I'm so fond of the bridge view that I took her there too, and we also did Lombard Street and Telegraph Hill in the evening. We were planning to go to the Women in Games International party afterwards, but by that time it was so late that we missed it, unfortunately.
Thursday was the first day of the main conference, which, after more work on my lecture, began with the IGDA VIP lunch. I had no idea the IGDA had so many VIPs. I was expecting a couple of dozen and there were well over a hundred. We got a look at Joshua Caulfield, the new executive director now that Jason Della Rocca has stepped down, and awarded plaques to various IGDA overachievers. I was especially pleased to see Wendy Despain get one -- she has been instrumental in getting books published with the IGDA logo on them (thanks to the Writers' SIG), which helps to raise the organization's profile.
I can't even remember what I did Thursday afternoon or evening. Friday morning I had to run to Palo Alto on some personal business, but I was back in time to meet Linda Breitlauch of the
Mediadesign Hochschule
in Dusseldorf and learn about their program. I also sat and talked over some free-to-play game design issues with the sage and insightful Martha Sapeta, formerly of Zynga and now of Playdom, which I worked into my lecture. That night was both the IGDA party and the Level 99 speakers' party. The IGDA party was so full that I, the founder, was not allowed in. I ended up sitting at a table inside the Metreon and learning all about Pokemon from Eve Eschenbacher, who is one of their translators from Japanese into English. Then off to the Level 99 party, at which, for the Nth year in a row, the music was too loud to talk to anybody. They never,
ever,
seem to learn. I gave it an hour and then ducked out -- I needed to save my voice for my lecture on Saturday afternoon.
Saturday itself was jammed -- meetings with Albert Sikkema of
Gameship
in the Netherlands, Sheryl Flynn who works on games for rehabilitation at the
Blue Marble Game Company
, lunch with an old friend from college, and then the Developers' Rant session. Jason Della Rocca had invited me to give a two-minute cameo rant, and I gave an excerpted version of a longer rant that appeared in my lecture, which I rather sneakily used as an opportunity to plug the lecture.
Finally, the last session on the last day, it was time for my own talk, "Single-Player, Multiplayer, MMOG: Design Psychologies for Different Social Contexts." I don't have it on the web in any form yet, but I'm working on it. In the meantime, someone named
Ben Zeigler has posted a surprisingly complete and accurate summary (barring some minor quibbles) on his blog, and you can read it here. The essence of the talk was that game design, as a discipline, is fragmenting. The craft is really very different between player-versus-environment, player-versus-player, massively-multiplayer, and the new "free to play" games. Towards the end I condemned "social" games that make money by creating incentives to tribalism and hatred, and that promote emotional instability, as just plain evil. I got a lot of laughs during my extensive quotations from an important lecture by Zhan Ye -- he actually talked about how profitable it was to sell people tools for humiliating others. One of my key points: there's no such thing as artificial hatred. All hate is real.
After the talk I answered questions for a while, then hurried off to the GDC bookstore, where I had set up a book signing. Unfortunately, they had already sold out of all my books! I'll arrange it better next year.
And that was the end of GDC. The next day I flew back to London, then immediately caught another plane to India, which is where I am now.