Back to Portugal again!
Instituto Superior Técnico, Lisbon, Portugal

A few months back I got an invitation from Sharon Strover at the University of Texas at Austin to deliver a lecture in Portugal—UT has a collaborative arrangement with the Instituto Superior Técnico, where I taught in 2008. After some lobbying from Professor Rui Prada at the IST, the lecture turned into a lecture and two game design workshops. He invited me last time and liked it enough for me to do a little extra work on this visit as well.
My first event was a lecture on Monday evening, so I should have had most of the day free to sightsee. Unfortunately PowerPoint decided to corrupt my lecture slides that morning, so I spent most of the day in my hotel room fixing it, as well as updating my lecture a bit. Rui met me in the evening and we walked to the
Ordem dos Engenheiros
, the Portuguese Engineering Society. It's a little like the IEEE crossed with the Bar Association; you can't do civil engineering, or any other sort in which lives may be at stake, in Portugal unless you're a member. (Ordem dos Engenheiros literally means the Order of Engineers, which makes being an engineer sound like a title of nobility. And why not? Engineers have better qualifications for their work than hereditary nobles do, anyway.)
There I was introduced to Vasco Amaral, my host at the Ordem, and delivered "The Future of Computer Entertainment to 2050" to a crowd of about 50 people. There were cookies and coffee afterward, and the Order made me a gift of a particularly fine pen and pencil set.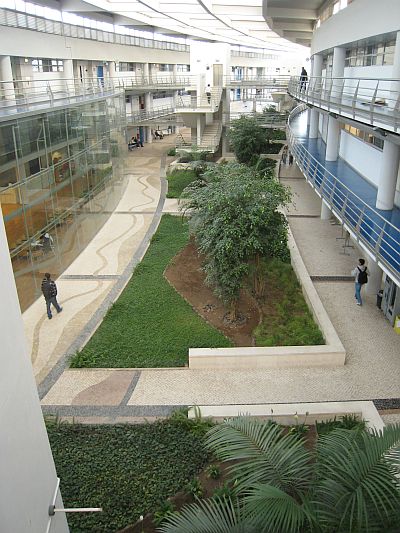 That night I went to dinner at
Brasserie Flo
, a Paris-based chain of restaurants that I had discovered in Amsterdam and particularly enjoyed. Portugal is famous for its fish and Flo did not disappoint. In fact, I ate fish or shellfish at more than half the meals I had there.
The next day I took a taxi out to the beautiful IST campus in Porto Salvo, a big curving building that feels very new and high-tech. I met some old friends there and gave my
Fundamental Principles of Game Design
workshop to a crowd of about 50. Rui told me that 80 people had wanted to come, but he had to turn the extras away so that we wouldn't have too many teams. It's flattering to have my workshops so well-attended, but of course I'm sorry we didn't have room for any more. The ones who made it in seemed to have a good time...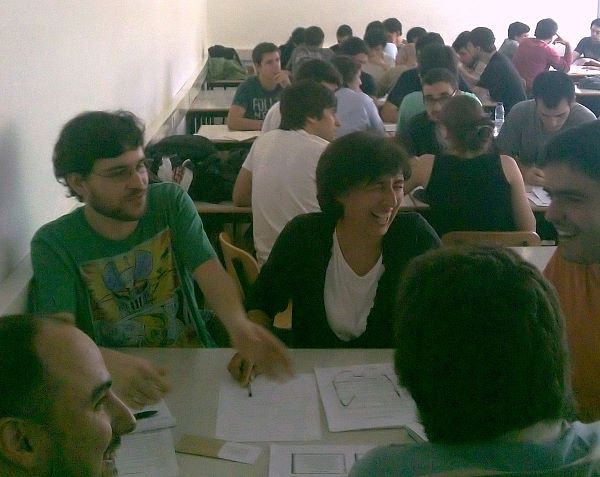 They're seldom actually this funny...
Lunch was fish (of course) in a cafeteria that is either subsidized or the best deal in Portugal—a three-course meal and drink for €5.50. In the afternoon the participants presented their games, including a distinctly dark one about running the CIA. The player works his or her way up through the ranks and has to make choices along the way about whether to further their own career or the nation's interests, which don't always coincide. Opportunities for office politics abound, with potentially lethal results for some of the agents in the field. In the end the player discovers that the CIA is actually being run by a traitor, an idea that inevitably reminded me of Kim Philby et al.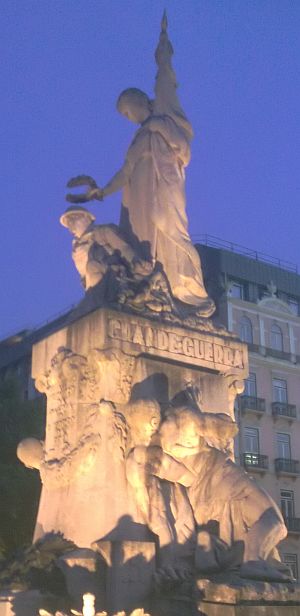 Tuesday I gave my
Character Design
workshop. Normally I ask the participants to design an action/adventure avatar based on a fictitious name and job—Aristides Mykonos, sponge diver, for example. However, for one team I did something different.
Not far outside my hotel I discovered a war memorial commemorating Portugal's participation in the First World War. Unaware that Portugal had been in the First World War at all, I did some research online and discovered the amazing story of
Aníbal Augusto Milhais
, "Soldier Millions." He was a farmer drafted into the war, and at the Battle of La Lys, he covered a Portuguese and Scottish retreat all by himself with one machine gun until he ran out of bullets. The Germans assumed that his was a heavily defended position and went around it rather than trying to take it, leaving him behind their lines. He subsequently escaped, rescued a Scottish officer drowning in a swamp, and made it back to Allied territory, where he was made a national hero—but only after the Scottish officer had told his story for him; Milhais had not talked about his adventure.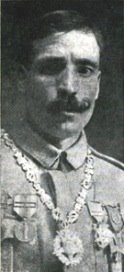 I thought that Soldier Millions was a perfect candidate for an action/adventure character and told one team to look him up and build a game around him. No one on the team had heard of him, but by the end of the workshop, at least 50 people knew his name and story. The team designed a somewhat satirical shooter: the more people he shoots, the bigger his mustache gets.
That evening I went to dinner with some of the faculty and about 8 workshop participants in Bairro Alto, the restaurant district of Lisbon. Lisbon is a city of many steep hills and I took the funicular railway to ascend the 265 meters required. It was a great evening of wine and good conversation (and octopus), and I really hope to do it again sometime. At the end of the evening it started to rain hard, and a number of Indian umbrella-sellers mysteriously appeared out of nowhere. Entrepreneurship at its finest: find a need and fill it.
Thanks, all!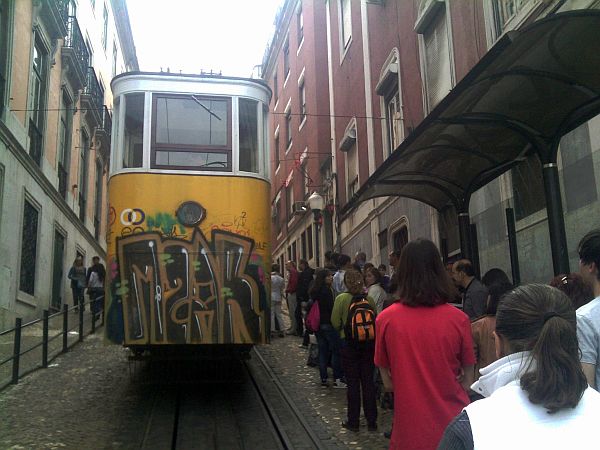 Elevador Glória, one of three funicular railways in Lisbon.